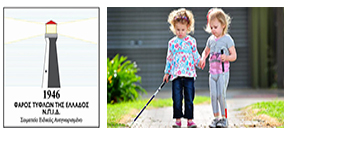 Since 1946, the Lighthouse for the Blind of Greece offers a big hug to all adults with visual impairments.
The Lighthouse is a non-profit organisation, specially recognised as philanthropic, supervised by the Ministry of Labour and sponsored by the State through the Region of Attica. All social activities of the Lighthouse are offered free of charge (social service, computer classes, pottery classes, language lessons, talking book library, Braille book library, Braille courses for the blind, gym etc), yet many are the moments of recreation and socialisation (woven, macrame, theatrical groups etc.). More details on the provided services are listed hereafter:
The Social Services Department aims to provide a set of support services (accompanying-advisory) to visually impaired people (newly blind or not) to ensure personal progress and welfare.
The Braille Lending Library contains old and rare books in Braille print and copies of all the printing activity of the Lighthouse for the Blind of Greece. There are also writings of ancient writers, scientific, literary, music, foreign languages etc. All scientific and literary books can be borrowed from the blind in Greece, Cyprus and the Greek Diaspora of America and Australia. It is the Only Historical Braille Library in Greece, containing over 3,500 titles and daily enriched with new titles.
The Braille Printing Center produces Greek and Foreign Literature Books, Children books, Educational Books of all Grades, Foreign Language Books, Music and Byzantine Music Books as well as Books for the Universities such as Laws, Codes, etc. Apart from the Books, there are four monthly magazines in Braille also printed: a various content magazine, a children magazine, a magazine with Health articles and one magazine with articles for the blind. The magazines are distributed all over Greece and Cyprus.
The Talking Books Lending Library has more than 3000 titles available in digital format, of both Greek and Foreign Literature. It covers the daily needs of blind students or readers in notes etc. 
Additional services include gymnastics, dances courses, and theatre, ceramics and sculpture, as well as macramé workshops.
For more information please visit the website of the organization: